It is so important to drink plenty of water.  Sometimes people get bored of "plain" water. Instead of turning to sugary juice or artificial powders to sweeten or flavor your water, consider using fresh herbs!  So beautiful, with tons of health benefits.
I used mint, lemongrass, dill, and rosemary to flavor coconut water! Think of it as fancy gatorade (sans the nasty crap actually in gatorade)!
Mint: a natural stimulant, good relaxant, relieves congestion, cools and soothes throat, aids in nausea, soothes stomach indigestion, increases alertness, and activates the salivary glands in our mouth as well as glands which secrete digestive enzymes which facilitates digestion.
Lemongrass: used for treating digestive tract spasms, stomachache, high blood pressure, pain, vomiting, cough, achy joints (rheumatism), fever, the common cold, and tiredness.
Dill: high in calcium, protects against free radicals and carcinogens, anti-bacterial.
Rosemary: powerful antioxidant, anti-inflammatory, strengthens immune system, increases circulation, aids digestion, boosts concentration & memory, mild diuretic, bye-bye bloat!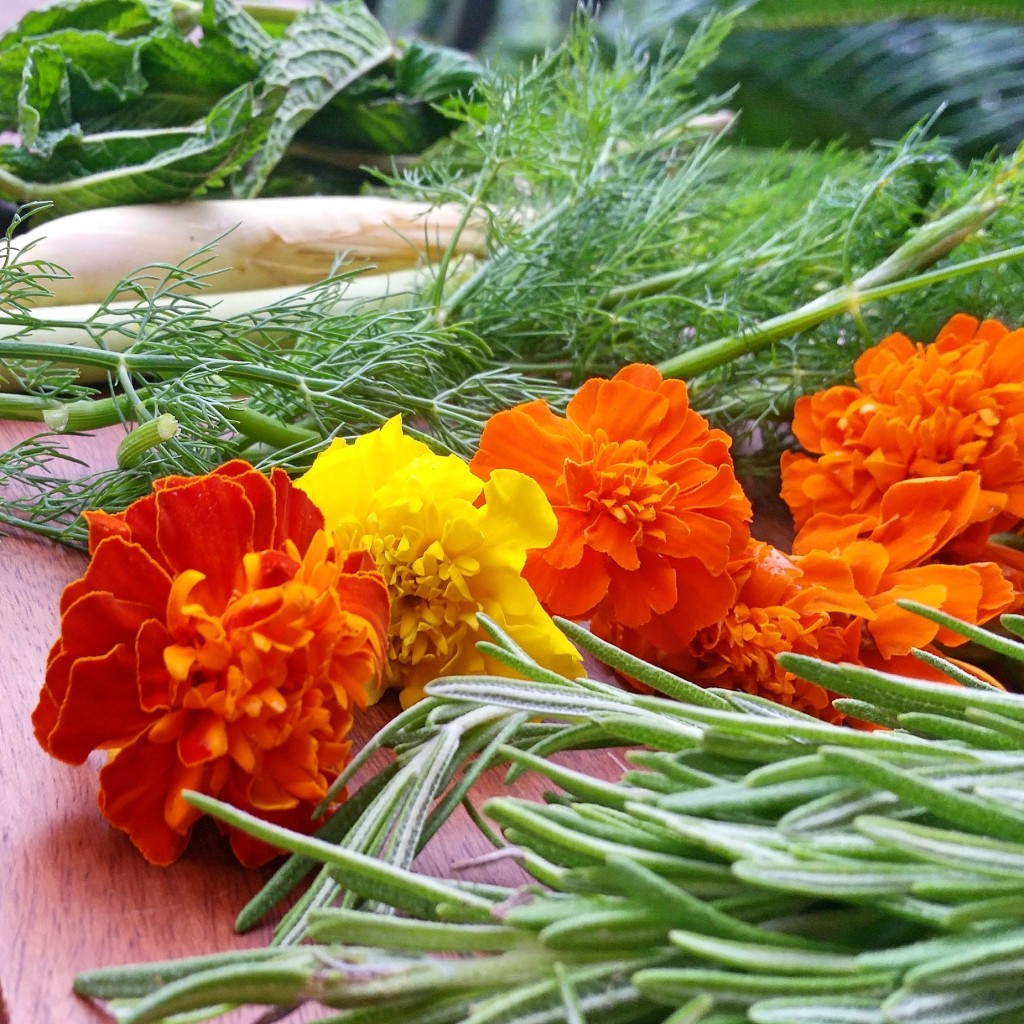 Rinse your herbs before you use them.
Fill your pitcher with your desired herbal beverage starter.  I used coconut water.  Other ideas are water, sparkling water, tea, lemonade, etc..
Using your paws (aka hands), crush the herbs to help release their natural flavors. Then put them in your pitcher. Stir vigorously.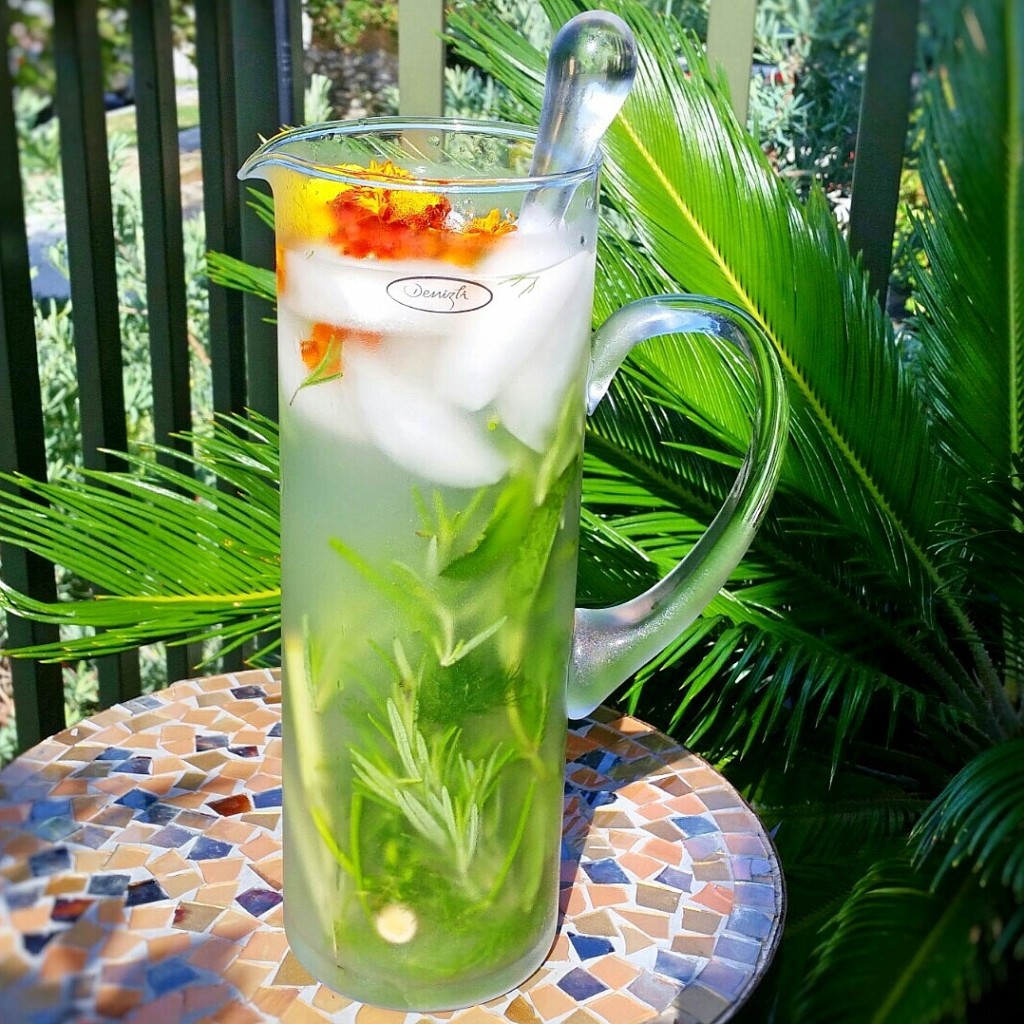 Place pitcher in the fridge to chill out. I left mine overnight to really marinate.  For the love of pretty, I garnished mine with fresh marigolds.
For a different flavor profile, add fresh berries, cucumber slices, citrus – get creative!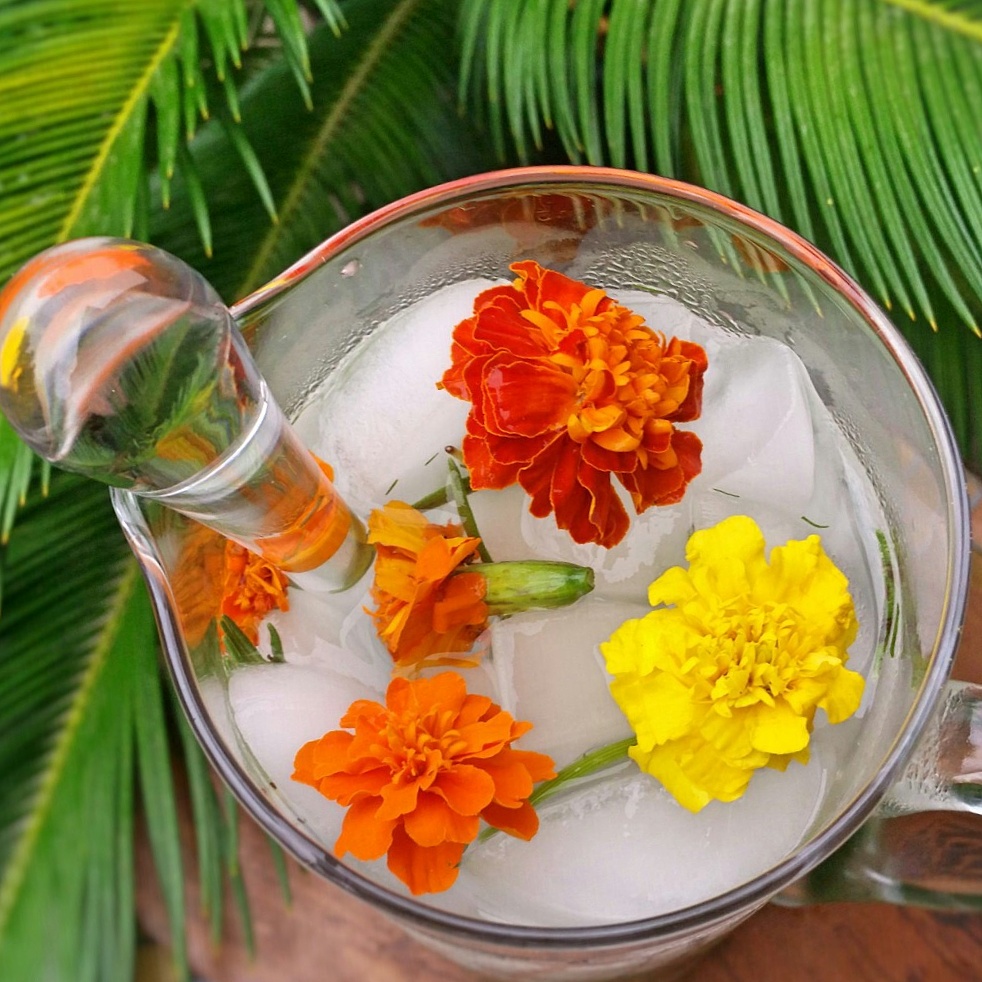 You can keep your beverage in the refrigerator up to one week.  When mine was almost gone, I added more coconut water.  It wasn't as strong as the first round (obviously), but it was still lovely.
XOXO,
Siobain