Warning! This recipe is spicy!  Even my hot sauce fiending husband said, "that's really spicy!" so if you are 'allergic' to spice than fugetaboutit. If you like spice, your biggest dilemma is choosing between using 1 or 2 jalapeños. I used 2!
Ingredients:
1/4 teaspoon ground cumin
2 jalapeños, minced
1-2 tablespoons ginger, minced
1 large bunch Swiss Chard—rinsed, and cut into ribbons + pieces
2 tablespoons fresh lemon juice
salt + pepper, to taste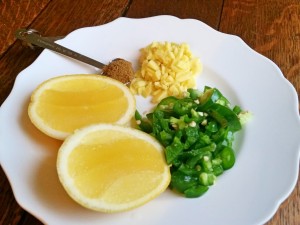 Instructions:
In a skillet–heat a splash of oil, jalepenos, ginger + cumin.  Sauté for 2-3 minutes.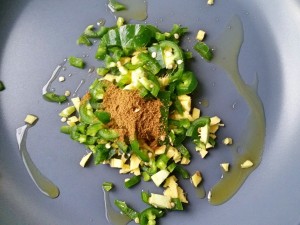 Add the chard stems and leaves.  Saute until chard is wilted as desired.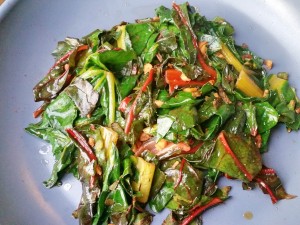 Season with lemon juice, and salt + pepper
We are eating this with a side of baked sweet potato fries and baked Garlic Teriyaki Tempeh (recipe coming soon)
Looking forward to seeing everyone's Meatless Monday posts tonight!
XOXO, Siobain