This is another no-brainer, easy-breezy, delicious, healthy dinner.  Jonathan was NOT happy when I told him we were having "Roasted Tomato & Red Pepper Soup" for dinner.  His exact words were, "I'm not very excited about that, do we have any other options?" Ha! No. (He could eat chicken and rice for dinner every night). Well, he just finished his second bowl of this veggie packed soup… #husbandapproved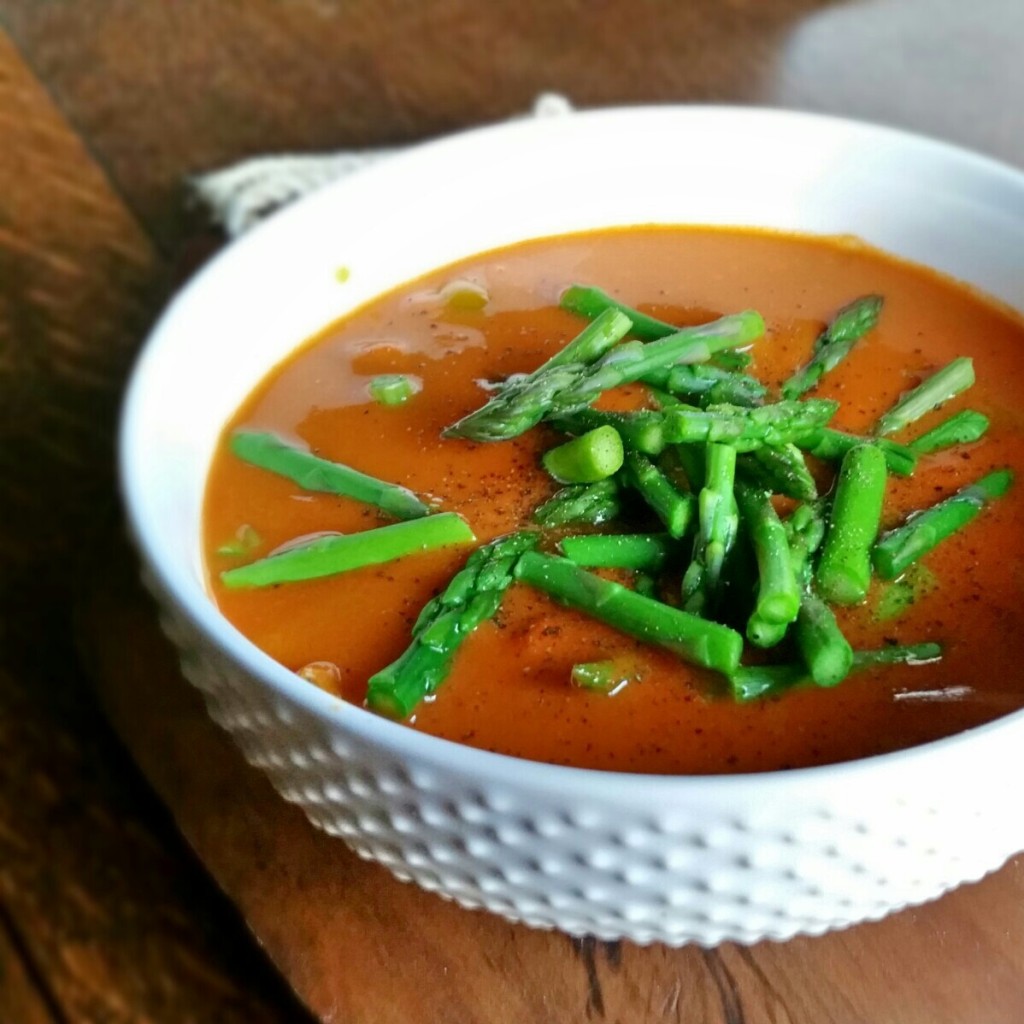 Serves 4
Soup Ingredients:
2  lbs. tomatoes, cut in half
2 large red bell peppers, cut in quarters, remove the seeds
1 onion, cut into wedges (like you'd cut an orange)
6 cloves garlic, peeled
2-3 cups vegetable broth (you can use chicken broth if you prefer)
2 Tablespoons chopped fresh basil
1 tsp. fresh thyme leaves (OR ½ teaspoon dried thyme)
salt and pepper to taste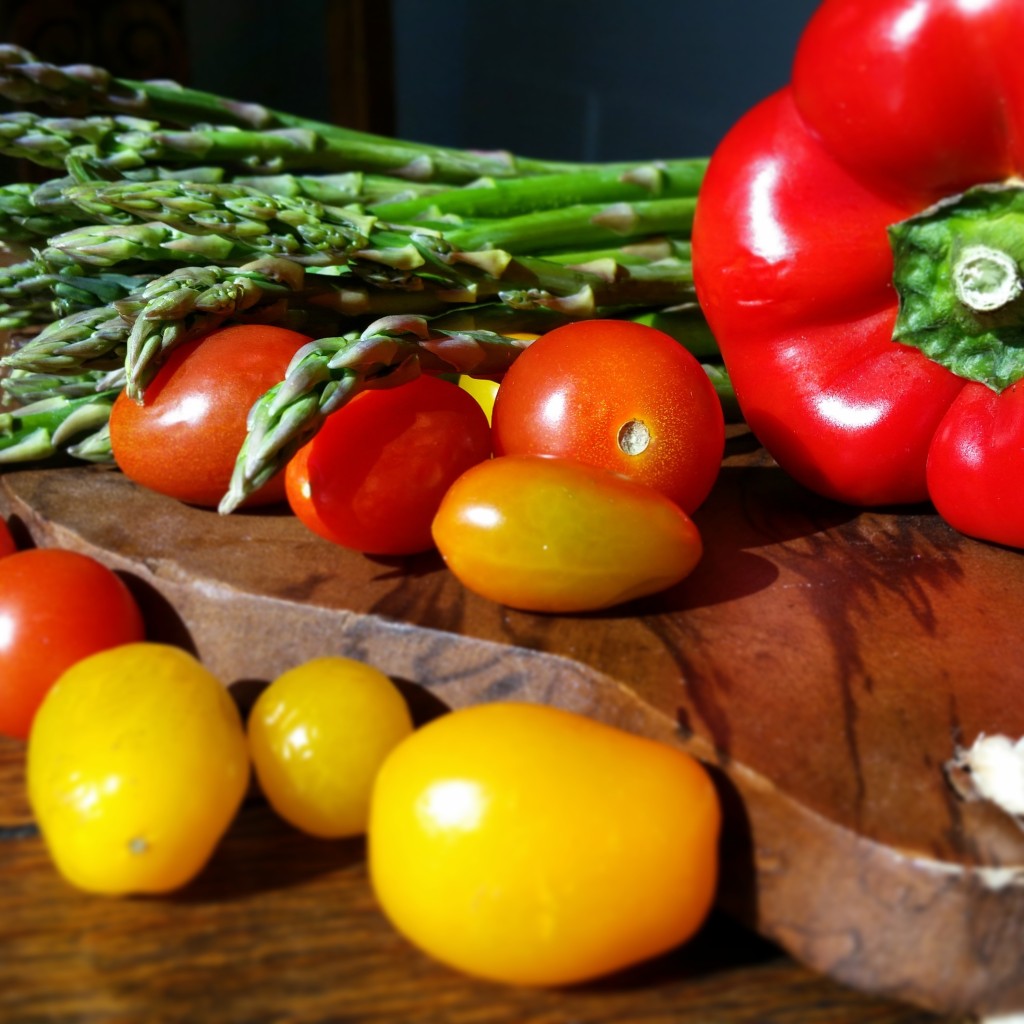 Instructions:
Preheat your oven to 450°F
Place tomatoes (cut side up), bell peppers, onion and garlic on large baking sheet. Drizzle with oil. Sprinkle with salt and pepper.
Roast until tender, about 40 minutes. I turn the peppers and onion a few times while they are roasting.
After veggies are roasted, let them cool. Then, put them in your blender (or food processor) along with the basil and thyme. Purée. Next, pour vegetable broth into the blender, use as little or as much broth as you'd like until you get your desired consistency.
Pour soup into a pot, and heat on the stove. Be careful! It likes to splatter as it heats up!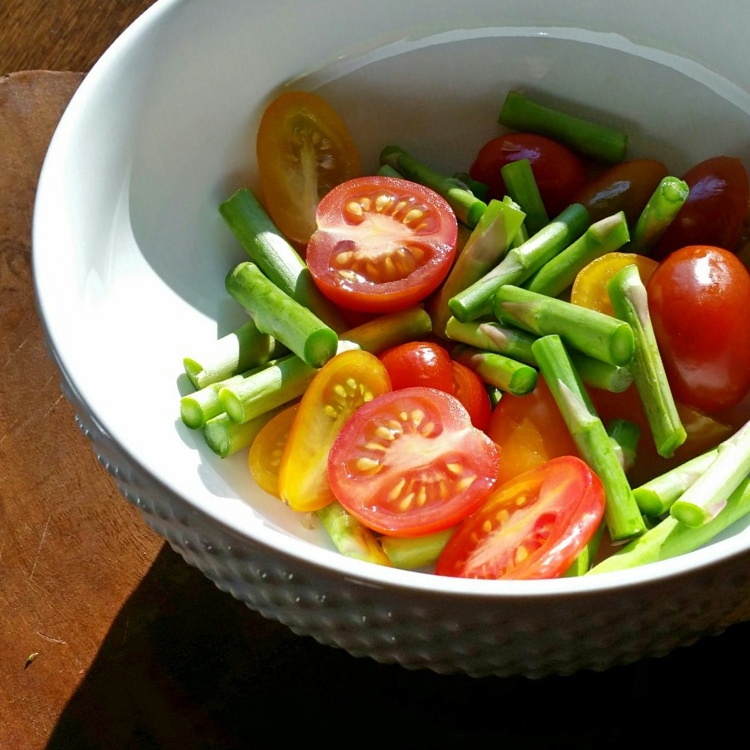 Because it is asparagus season, and I LOVE ASPARAGUS!!! I filled my soup bowl with bite sized asparagus (I left mine raw, but you can roast it, or even blanch it for a few mins). I also added a few raw, organic heirloom cherry tomatoes, that I sliced in half. Then I poured the hot soup over it!  SO YUMMY.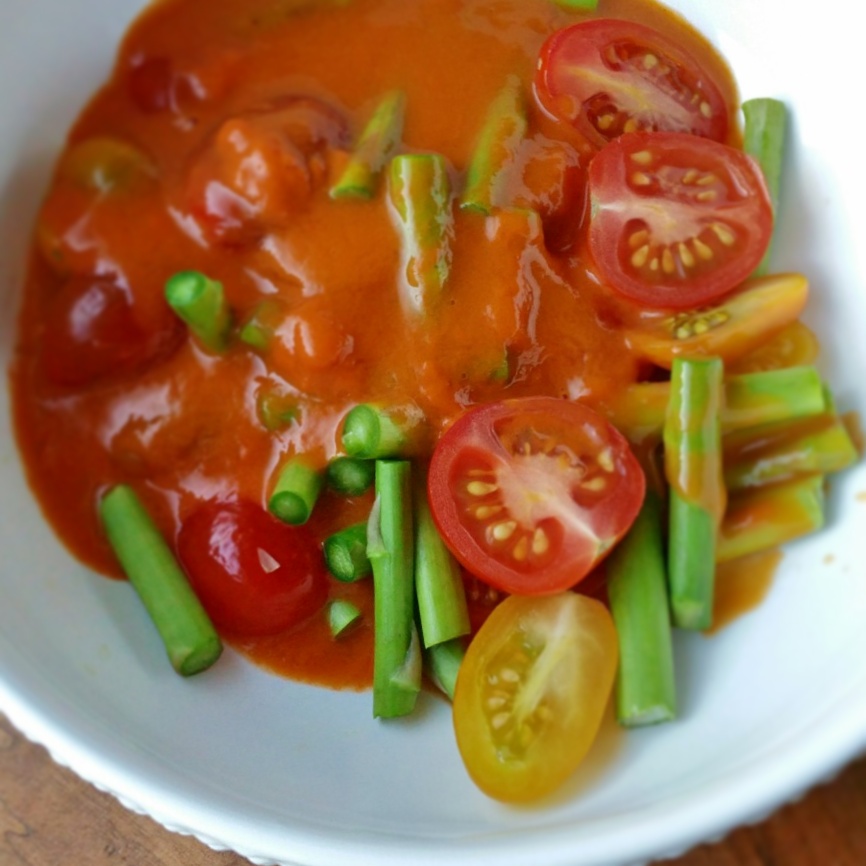 Garnish ideas: parmesan cheese, croutons, chickpea croutons, cherry tomatoes, fresh thyme, fresh basil, sour cream, greek yogurt, cayenne pepper…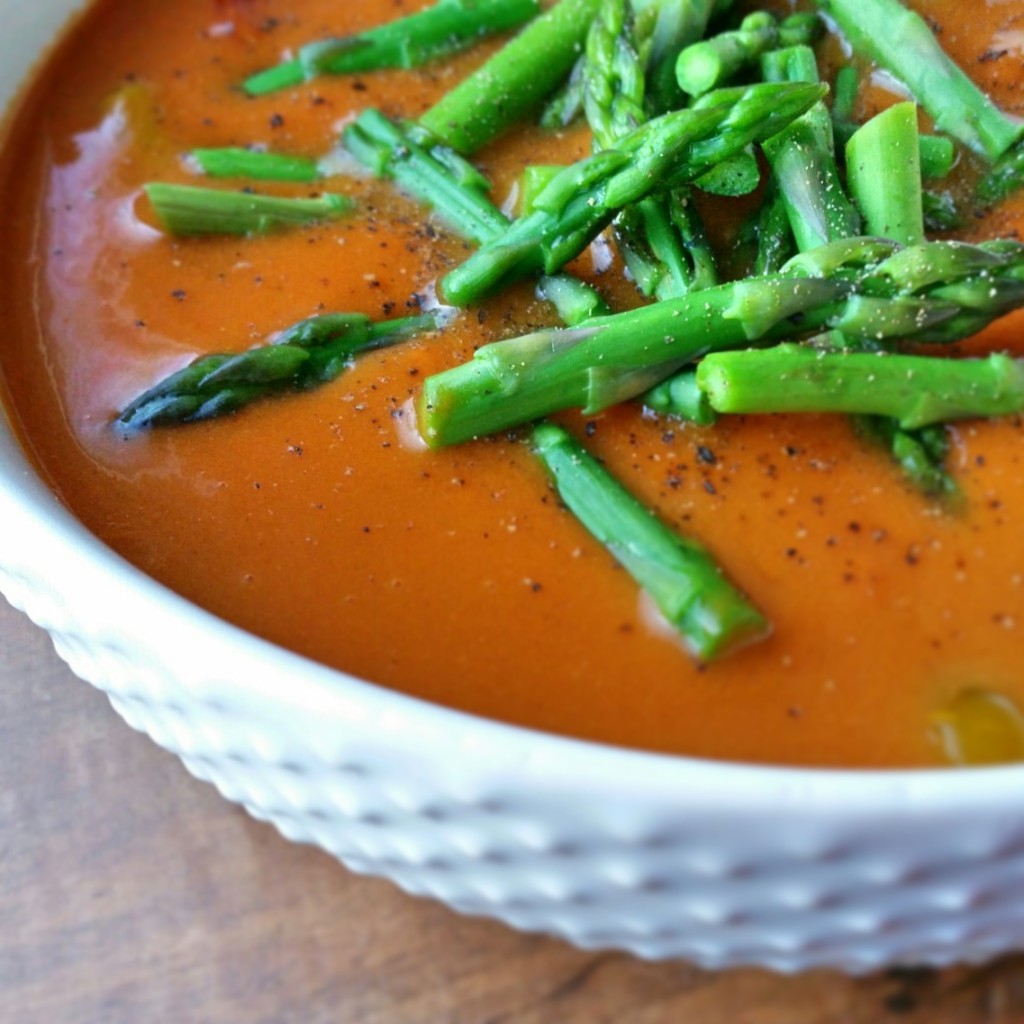 Notes:
You do not have to roast ingredients prior to simmering, but I do recommend it! Roasting intensifies the flavor of your tomatoes, peppers, onions and garlic. You can either leave your veggies as they are after roasting (for a chunky soup), or you can let them cool and purée them into a delicious broth (like I did).
This is so yummy!!! Don't forget to tag @cloversandkale #cloversandkale in your Instagram pics when you try this one yourself. Excuse me while I go for seconds!
XOXO,
Siobain