This is a rendition of the Cali-Mex Quinoa I made the other day.  It uses all the same raw ingredients, but instead of serving it with quinoa you toss it with kale.  My Dijon Vinaigrette or a chipotle dressing would work nicely with this.  I was lazy and used Bragg Ginger & Sesame Salad Dressing.  This salad has such a great flavor profile, it almost doesn't need dressing. You could get away with using a squeeze of lemon or lime and a bit of olive oil.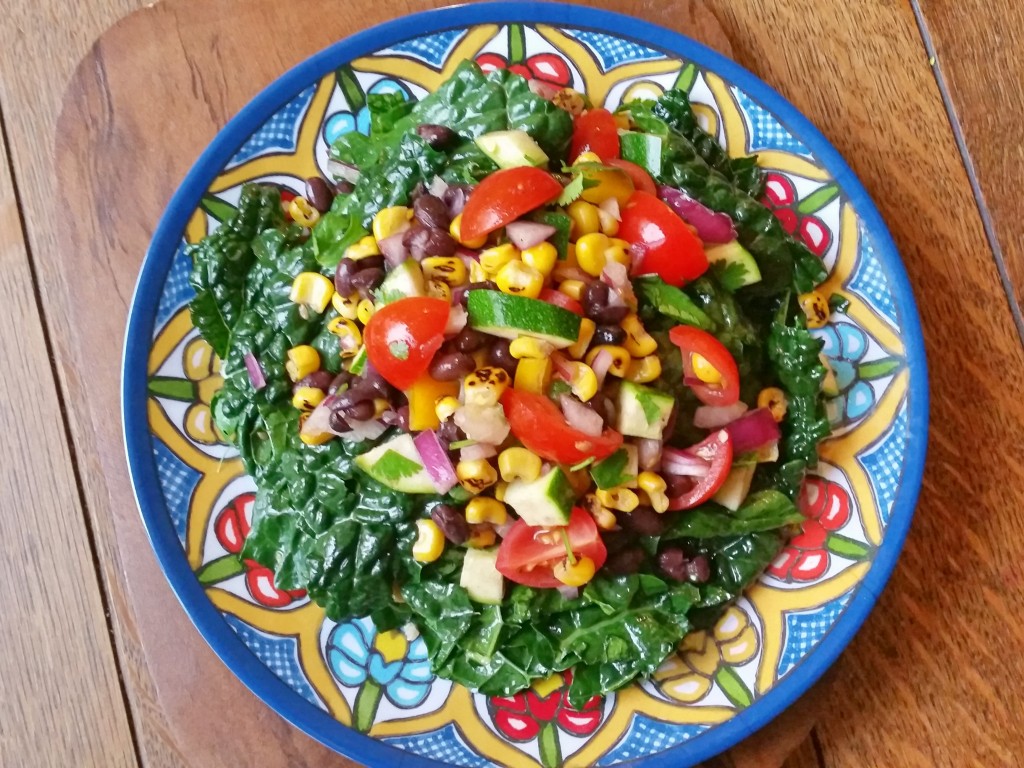 Serves 8 as a side dish.  Or 2-4 as a main course (depending on how hungry you are!)
Ingredients:
1 head of Lacinato Kale, washed & torn into bite size pieces.
1 bell pepper, diced (I used yellow, but prefer red with this dish)
1/4 to 1/2 red onion, diced
1 medium zucchini, diced
4 medium tomatoes, diced (OR) 1-2 pints of cherry/grape tomatoes cut in quarters
4 ears fresh corn (OR) 2 cups of frozen corn
1.5 cups black beans, drained and rinsed
2 avocados, diced
1/2 cup cilantro, chopped
Instructions: After you prepare all the ingredients.  Massage your kale with your salad dressing.  Plate Kale and top with chopped ingredients, OR toss everything together and plate. Enjoy!!
Here is one more idea for my non-veggie friends:
For my husband, I made chili-lime organic, free-range chicken.  To cook the chicken, I boiled boneless skinless breasts in a large pan on the stove top until cooked through.  Then I tore the chicken into shreds and sprinkled with chili powder, paprika, cayenne, a pinch of salt, and juice from 1 lime.   In a large skillet, I tossed in all of the above ingredients + the shredded chicken and sautéed until the onions were translucent.  I topped it with my creamy avocado-cilantro dressing.  Click on link and scroll down.  It was a big hit!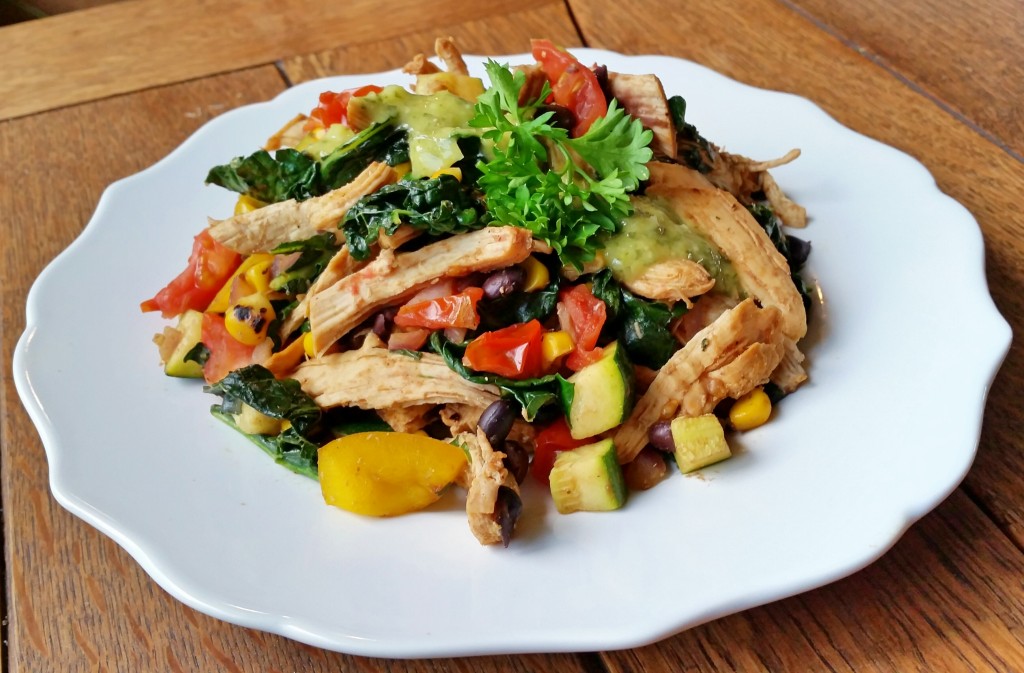 Hope you are having a great week!
xo, Siobain