Let's make this clear…I love bread.  I love salad.  I love croutons in my salad.  Here's a big–BUT, I have a tendency to snack on them while I'm making my salad or to use more than one serving on my salad…sabotage!!  I do my best to eat whole real foods.  That means cutting back on things like bread.  I am not technically gluten intolerant, Thank God!  But I limit it in my diet.  Chickpea croutons are a healthier alternative.  1/2 cup of chickpeas provides 24% Daily Value of Fiber and 6 grams of protein!  Can't say that about bread croutons.
There are a million different ways to make these croutons.  Get creative in the kitchen! Here's my go-to seasoning combination for these babies.
Double Roasted Spicy Maple Chickpea Croutons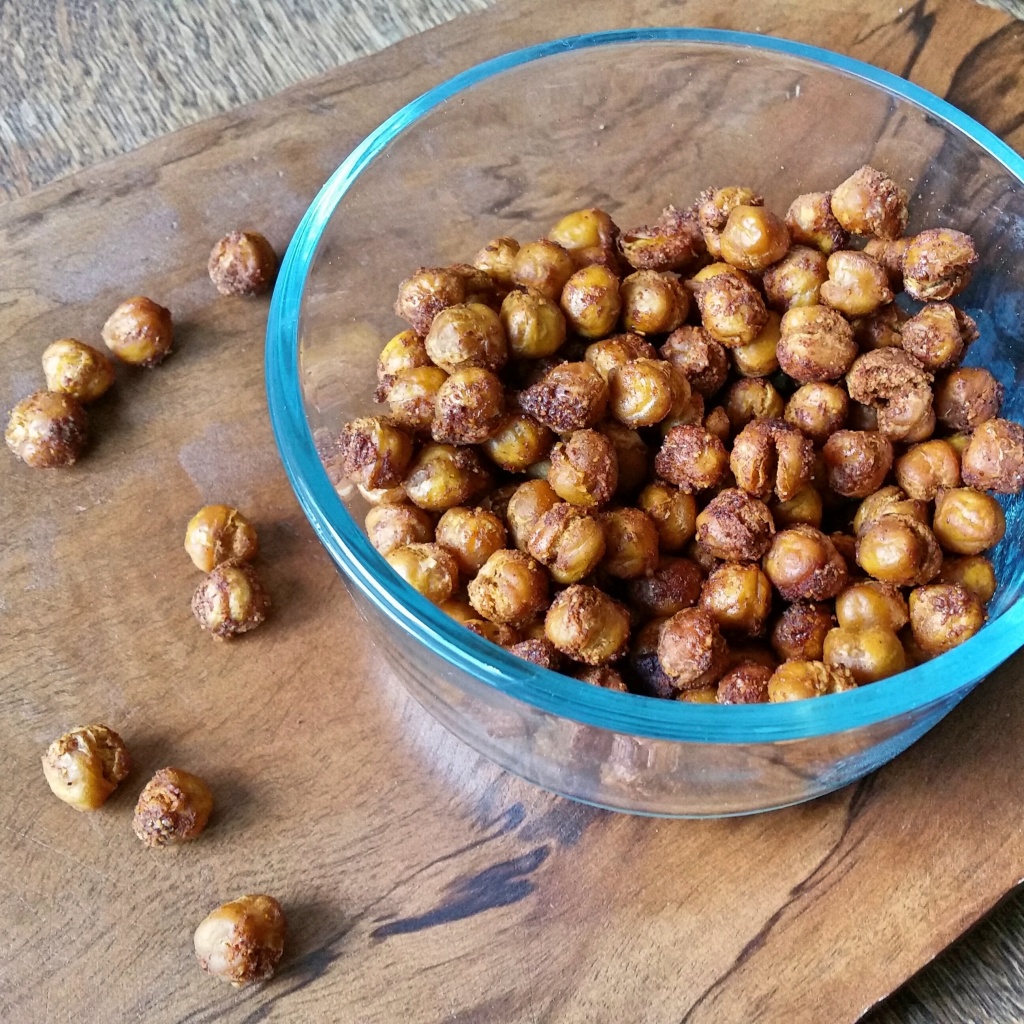 Ingredients
1/2 cup of dry chickpeas/garbanzo beans (or) 1 can of cooked garbanzo beans
1 Tablespoon coconut oil or olive oil
1 Tablespoon pure maple syrup
1 teaspoon ground cumin
1 teaspoon paprika
1/2 to 1 teaspoon cayenne pepper
1/2 teaspoon sea salt
Instructions
Recommended: Cook your own chickpeas, they get crispier this way. Soak 1 cup of chickpeas in water overnight.  In the morning, rinse them well.  Put them in a pot and cover them with water.  Cook them until they become tender, approximately 30 minutes.
That's not always realistic!  So you can always just buy a can at Trader Joes and call it a day.  wink wink.
Either way, pat the chickpeas/garbanzo beans dry.
Preheat the oven to 400 F.  I use a large pyrex dish with edges so that when it's time to roast the chickpeas a second time I can do my mixing in the same dish without spilling. You can also used a parchment lined baking sheet.
In a small bowl, mix your dry seasonings.
In a medium bowl, add your chickpeas and toss them in 1 Tbs oil & half of your spice seasoning. 
Place chickpeas on lined baking sheet or pyrex dish and roast them in the oven for 30 minutes.
After the first 30 minutes, take them out of the oven.  Drizzle them with the maple syrup and the rest of the seasoning.  Mix them up. Put them back in the oven for 15 to 20 more minutes or until they are nice and crispy.
Remove from the oven and let them cool.  If you aren't using the entire batch for one big salad, store them in a mason jar that has a lid.
Feel free to double or triple this batch so you have these on hand for your daily salad or to snack on!  And like I said…get creative in the kitchen!  Use garlic, parmesan, oregano, greek seasoning, lemon pepper, lemon juice, lime juice, whatever you like to flavor your chickpeas!
xo, Siobain