Did you know?
Even though figs are considered a fruit, the fig is actually a flower that is inverted into itself?! Mind blown! Technically the "drupes" (aka) the seeds are the actual fruit!
other reasons to love figs…
3 to 5 fresh figs – provide 3.5 grams insoluble fiber & 1.5 grams water-soluble fiber
they are good source of calcium, potassium & iron
they are a natural source of energy, excellent for an afternoon snack or a quick energy boost before a workout.
Find out more about Figs here!
Okay, I'm obsessed with this salad. So I'm sharing it with you! It serves 2-3 people.
Roasted Kale & Fig Salad with Apple Cider Vinegar Dressing
Salad Ingredients
2 heads of kale (I used red kale) 6 figs
1 large sliced avocado
1/2 red onion (sliced as you like, I like super thin slices)
1 1/2 tablespoons extra virgin olive oil
salt & pepper, to taste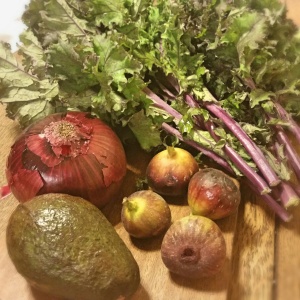 Salad Dressing Ingredients
1/4 cup raw apple cider vinegar (I use Bragg's) 
juice from 1 lime 1 tablespoon raw honey
 1/4 cup extra-virgin olive oil
  salt and pepper, to taste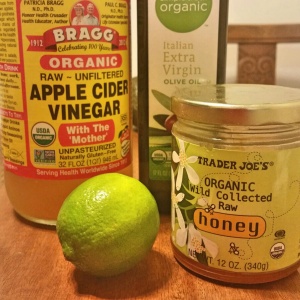 Instructions
Preheat oven to 350 F
Wash & cut Kale
In a large bowl, massage 1 1/2 Tbs of olive oil into kale and sprinkle with salt & pepper
Place kale on baking sheet and roast for approximately 15 minutes (until kale starts to get slightly crispy)
While Kale is roasting, mix all of the salad dressing ingredients in a medium bowl. (sometimes I add the sliced red onions to the dressing to marinate until it's time to plate)
Time to Plate: place the kale on the bottom then sprinkle with red onions, avocado and figs. Finally drizzle it with the Apple Cider Dressing (don't feel like you have to use all the dressing).
To keep it "professionally pretty" I recommend plating the ingredients individually vs. tossing then plating.  You can even make little patterns with the avocado & figs.  I definitely didn't do that in the photo below…but I was going to eat it in like 5 seconds!
This is the final product.  It tastes amazing and is seriously healthy stuff.  YUM.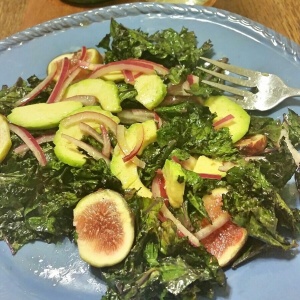 Enjoy!
xo, Siobain