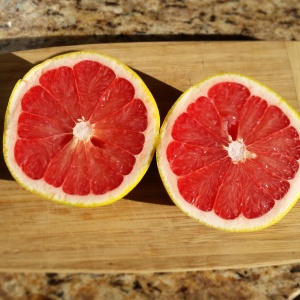 pictured: RUBY RED GRAPEFRUIT
When I was younger I did not like Grapefruit, it tasted too tart.  Now I love it!  My favorite way to eat it is chilled (right out of the fridge).  If you feel like it needs a touch of sweetness, try it with a bit of stevia.
Did you know?
1/2 of a Ruby Red Grapefruit packs
64% DV of Vitamin C
28% DV of Vitamin A
8% DV of Fiber
& only 52 calories!
There are so many types of grapefruit, I tend to go for the ones that have the red "meat" because they are the highest in antioxidants. They also tend to be the sweetest!
Grapefruit protects your heart by helping lower "bad" LDL cholesterol.  It also helps control our blood-sugar & insulin levels, which in turn may aid appetite control.  The high amount of Vitamin C it contains assists our body in producing collagen, a protein that keeps our skin looking forever young!
**If you are taking any prescriptions, be sure to check with your healthcare practitioner about consuming grapefruit.