I've made so many egg casseroles in my life. Some gluten free, dairy free, some loaded with veggies, some with egg whites.  But, I always come back to this recipe. These eggs are so fluffy, it's almost as if you are eating a soufflé–but none of the extra work! You can make this in a casserole dish, or as individual muffins for easy grab-and-go weekday breakfast.
The balance of protein, carbohydrates, and fat in these will really keep you satisfied–especially if you combine with roasted sweet potatoes and a big handful of baby spinach. This breakfast Meal Prep has been making our lives so much easier in the mornings.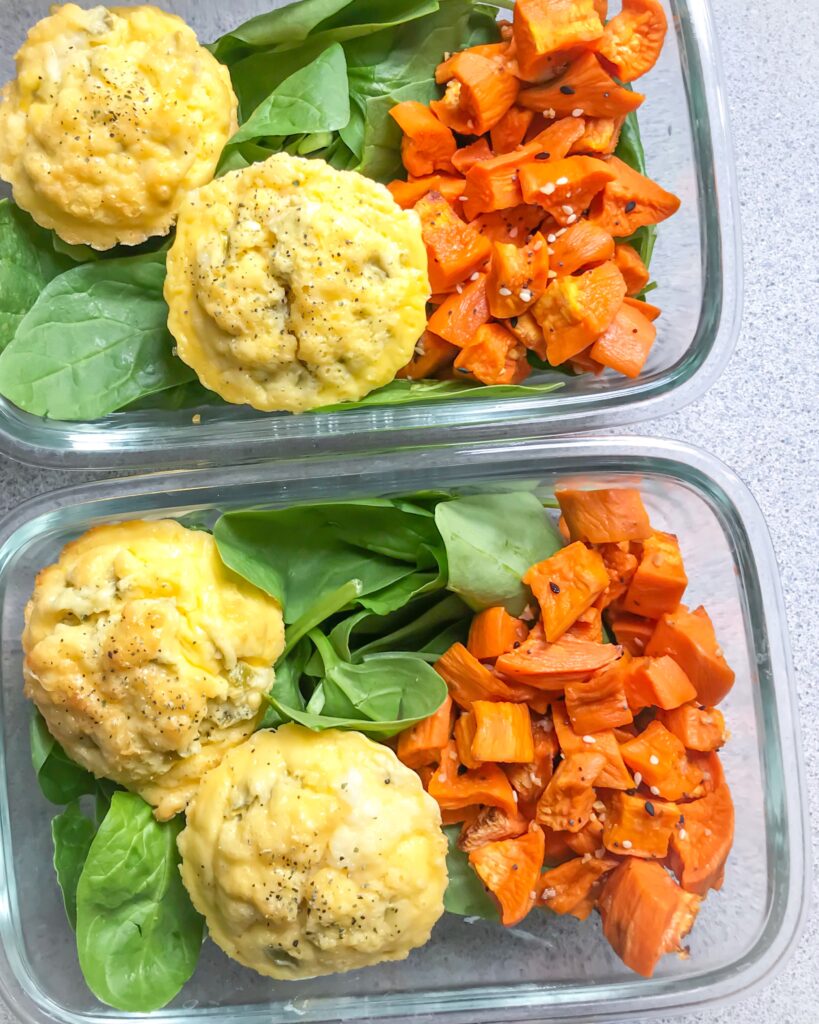 Ingredients
10 eggs
2 cups cottage cheese
1/2 cup shredded cheese, I used sharp white cheddar 
8 oz diced jalapeños (or diced green chilies for a mild flavor)
1/2 cup flour 
1 teaspoon baking powder
dash of salt
Instructions
Preheat oven to 350°F
In a large mixing bowl, whisk all ingredients together.
Spread mixture into (greased) casserole dish, or scoop into large muffin pan.
*If using a muffin pan, there might be a little extra batter, if so I recommend using a small soufflé dish or ramekin to cook the extra.*
Bake at 350°F for 30 minutes, or until set.
Enjoy right away, or store in airtight container in refrigerator up to 4 days. 
Perfect served over a bed of baby spinach with a side of 'sheet pan sweet potato hash'
Dice sweet potatoes into cubes. Season with olive oil, salt and pepper. (Other seasoning ideas: cumin, cayenne pepper, garlic powder, paprika) Roast at 425 degrees Farenheit for 30-45 minutes. Halfway through, toss the cubes around so that all sides are evenly cooked.
To Reheat: Pop in microwave for 30 seconds, or until warm. To reheat in oven 350°F 5-10 minutes. Or pan fry on a skillet until heated through.
These freeze well. Let them cool completely, store in airtight container in freezer. They last about 3 months in the freezer.