As you may know, I have been a vegetarian for 20+ years, my husband is not.  I eat high vegan. But I am not 100% vegan. This meal is a great example of how I make almost the same meal but different protein for each of us. It is gluten-free & dairy-free.  I have a couple avocados to slice up right before we eat each portion–but I don't like adding avocado to the meal in advance.
Here are the details:
Crockpot Salsa Chicken
Taco Seasoned Tofu
Basmati Rice
Sautéed Veggies
Black Beans
Salsa + Cilantro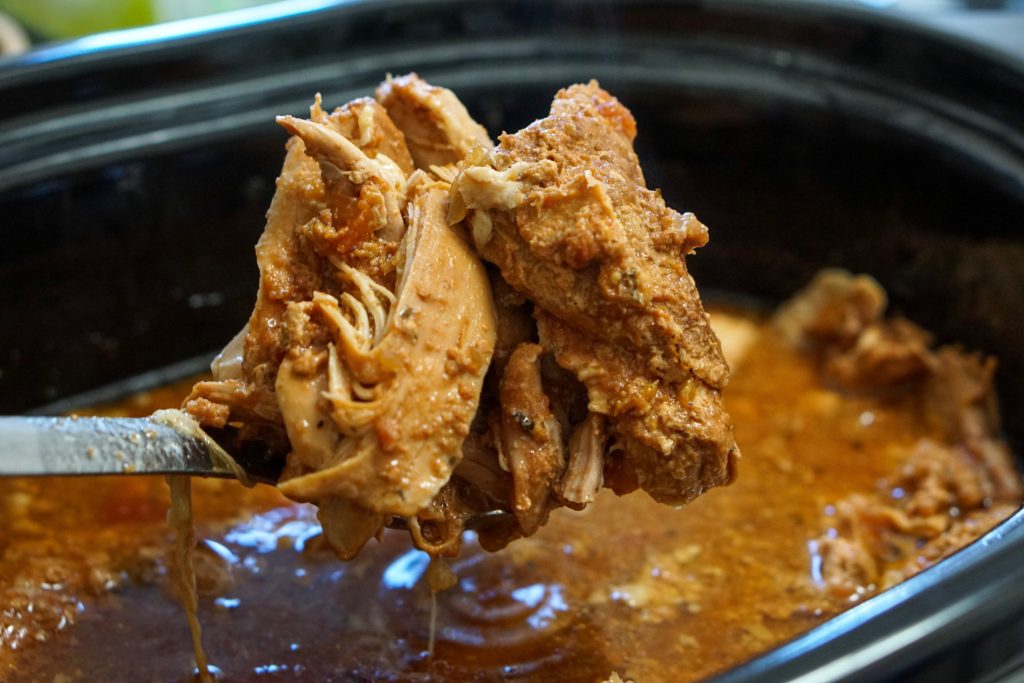 Crockpot Salsa Chicken (3-4 servings)
2 pounds of Chicken
1 jar of salsa (approx 16 ounces)
Heat in covered crockpot on low, overnight. I doubled the batch so my husband could have extra chicken for his lunches. (4 pounds chicken + 2 jars of salsa) and cooked it for about 15 hours!!—which is total overkill—but Jonathan said it's super yummy! 2 pounds could easily cook on low in 5 hours and would make for 3-4 servings for a hungry/active person.
Note: We usually buy 2 pound bags of frozen chicken from Trader Joe's.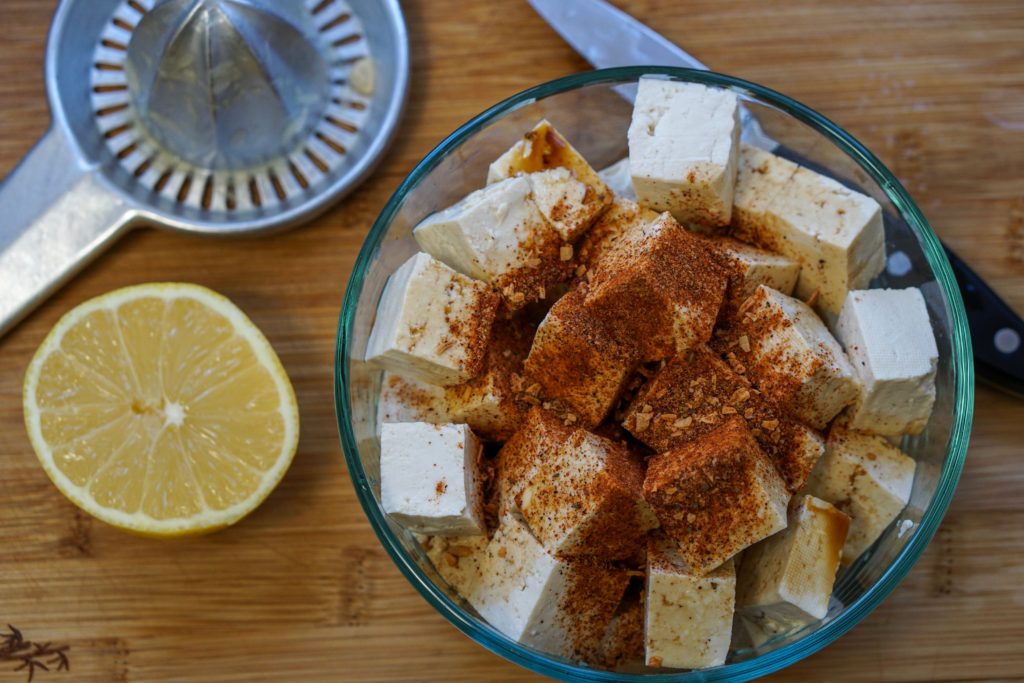 Taco Seasoned Tofu (3-4 servings)
2 blocks sprouted organic tofu (I buy the double pack from Trader Joe's, 15.5 ounces)
3 Tbs Taco Seasoning
Juice from 1/2 lemon
1 Tbs Tamari
optional: a few dashes of hot sauce
Instructions:
Cut tofu into cubes. Marinate cubes in taco seasoning, lemon juice & tamari for 30 mins.
Add one Tablespoon oil to skillet. (or add 1/4 cup vegetable broth to keep it oil free, I used all my broth to cook the rice & sauté the veggies)
Add tofu.
Sauté until heated through. Stirring a few times. Set aside.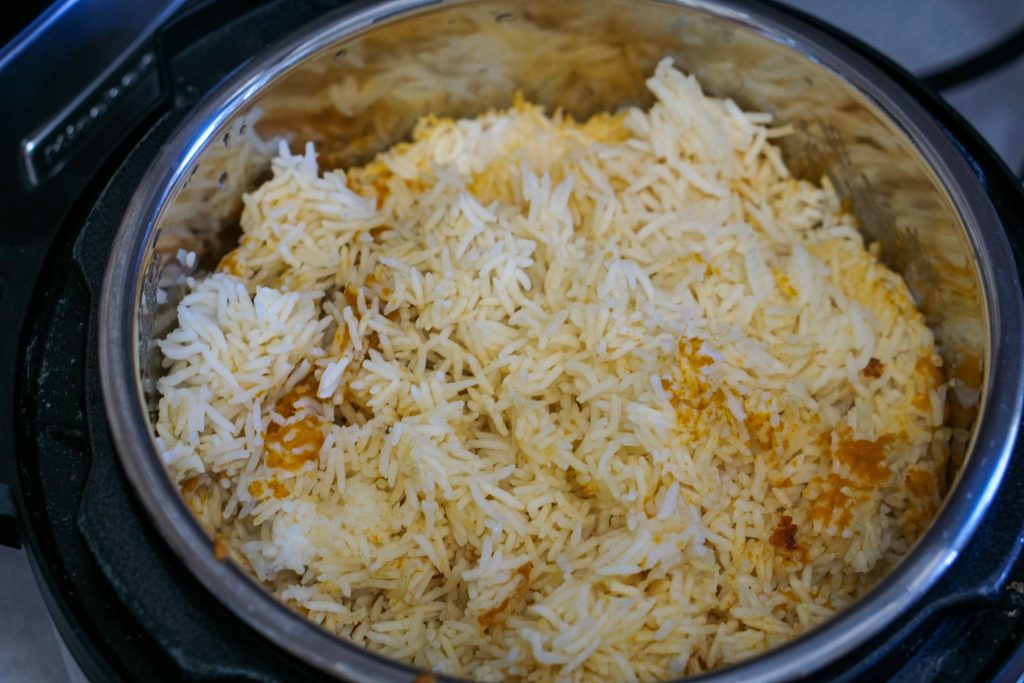 I cooked 2 cups of basmati rice + 3 cups of vegetable broth in my instant pot (high pressure for 4 mins) Then I did the natural steam release for a good 20 mins after it finished pressure cooking. Came out perfect.
I served approximately 1/2 cup of cooked rice with the tofu and about 1 cup of rice with the chicken.
Tip: When you reheat anything that has rice— unless there's a lot of liquid in the sauce/protein  you are putting on top—you will want to add a few tablespoons of water to help re-moisten the rice. (I do not recommend meal prepping rice for longer than 3 days. In my opinion it just doesn't taste good longer than that.)
*Jasmine Rice is our favorite for this meal, but TJ's was out so we had Basmati instead. Quinoa is also an excellent option!
Fajita Veggies (6 servings)
1 Onion, diced
3 Bell Peppers, diced
2-3 cups of Mushrooms, diced
Marinade for the mushrooms:
1-2 Tbs Tamari (reduced sodium)
1 Tbs Ponzu sauce
1 Tbs Worcestershire sauce (vegan)
1 tsp Poultry Seasoning
Black Pepper
Instructions:
Once you have diced the veggies & marinated the mushrooms.
Heat skillet on Stovetop.
Add 1/2 cup veggie broth to skillet. Add onion, sauté 1 min.
Add mushrooms, sauté 2 mins.
Add bell pepper, sauté 1 min.
Remove from heat & set aside.
Tip: When meal prepping, you want to under-cook the veggies slightly because they will be reheated again either in the oven or microwave and that will cook them more.
In addition:
Rinse and drain 2 cans of black beans.
Wash fresh cilantro.
I added a spoonful of jarred salsa to each dish.
Optional: avocado for serving
Now it's time to assemble!
No right or wrong way to do this! See my pics below!