I survived a full week + weekend of:
No Wheat
No Alcohol
No Dairy
No Processed foods
No Sugar
And not just any weekend, SUPER BOWL weekend!!  I brought a huge Kale & Spinach salad to the Super Bowl party we went to.  I made the choice not to eat: pretzels, macaroni salad, potato salad, a veggie burger on a yummy hamburger bun, chocolate chip cookies, and beer!! I ate tons of my salad and drank about 6 pints of water during the game.
My total weight loss for the first 7 days is 2.8 pounds.  I'm very proud of myself.
Today I washed & prepped Lacinato Kale, Rainbow Chard, and more Dandelion Greens for salads and sautés.  I prepped veggie sticks: cucumber & carrots for convenient snacks.  I cooked a batch of rainbow quinoa using my vegetable broth to last me a few days.  I'm feeling prepared and I'm looking forward to another successful week of eating nothing but real food.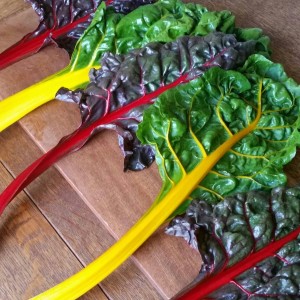 Rainbow chard is the prettiest.  I'll share a simple chard recipe for #MeatlessMonday tomorrow!
XO,
Siobain