There are so many recipes for Zucchini Noodles aka Zoodles going around right now.  This is a "trend" I don't think I'll get sick of!  No, zoodles don't taste "just like spaghetti" like some people say…BUT, when prepared right, they are a deliciously healthy alternative.  This recipe is easy breezy and super healthy.  I am obsessed with my Spiralizer.  If you don't have one yet, get one!!
Sautéed Garlicky Zucchini Noodles
Serves 2
Ingredients:
3-4 small/medium zucchini, spiralized
5 cloves of garlic, minced
3 Tablespoons fresh parsley, chopped
10 cherry tomatoes, cut in half
1/2 cup of fresh or frozen corn (optional)
1 Tablespoon olive oil
1/2 teaspoon of chili crushed
1/2 small lemon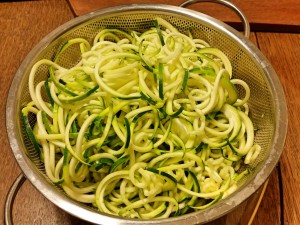 Instructions:
Add 1 Tablespoon of olive oil and minced garlic to a skillet over medium heat.  Sauté for a couple minutes.
Add Zucchini noodles to skillet.  Continue to sauté for 5 minutes.
Add tomatoes, corn, parsley, and crushed chili.  Sauté for 2-4 more minutes.
Squeeze juice from 1/2 lemon on top & lightly toss.
Serve immediately.
Enjoy!
xo, Siobain