Working with seasonal produce is a great way to eat a plant based diet without breaking the bank.  Seasonal produce is normally very reasonably priced.  Butternut squash is available at every farmers market and grocery store this time of year.  I was planning on roasting my butternut squash to adorn a kale salad, but last night was chilly and perfect for soup!  I happened to have all the ingredients for a yummy seasonal soup sitting on my kitchen counter & in my pantry (except garlic, had to send the hubs to the market for wine & garlic).   My husband had "the best butternut squash soup ever" in Pebble Beach a couple weeks ago, while on a business trip.  I told him that I could make butternut squash soup and he said "no way".  I took that as a little challenge (wink wink).  For this recipe you will need a blender.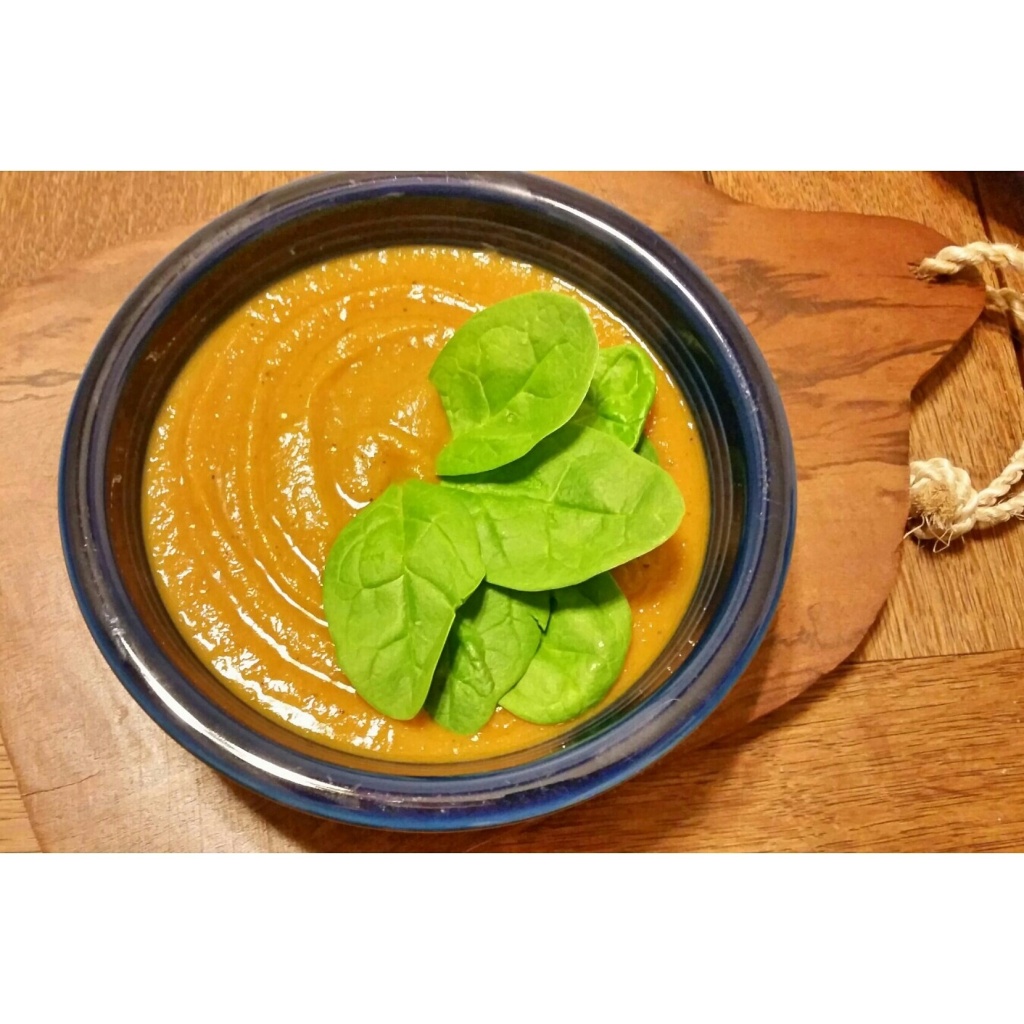 Health Benefits of Butternut Squash
Electrolytes–potassium, magnesium and calcium
Carotenoids–The recommended DV intake of vitamin A = 3,000 iu's for men & 2,333 for women. 1 cup of butternut squash contains 14,882 international units!! Butternut squash is one of the best sources of four carotenoids: alpha-carotene, beta-carotene, lutein and zeaxanthin. The body converts alpha- and beta-carotene into retinol, which is the form of vitamin A needed for healthy eyes and skin. read more here
Antioxidants–1 cup butternut squash has 32% DV Vitamin C, 13% DV Vitamin E, 17% DV of manganese.
Fiber–1 cup of cubed butternut squash has 3 grams of fiber
Roasted Butternut Squash + Sweet Potato Soup
Ingredients (serves 4 as a "starter")
1 butternut squash
1 good sized sweet potato (I used 2 small)
2 apples–granny smith, gala, honeycrisp, fuji (whatever kind you like)
1 medium onion—white, brown, red (again, whatever)
3-4 cloves of garlic
2 Tablespoons of coconut oil (or olive oil)
4 cups vegetable broth aka 1 quart—preferably low sodium (you could also use chicken broth, but I don't eat meat)
1 cup water
1 teaspoon of cinnamon
dash of nutmeg (optional)
salt & pepper for seasoning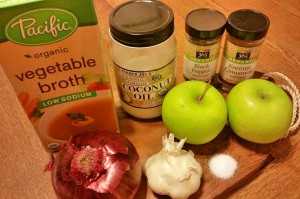 Instructions
Preheat your oven to 400 F.
Peel & chop butternut squash into chunks, this is the most time consuming part of this recipe.  Make sure you really peel it well until all you have is the beautiful orange squash. Warning: your hands may turn orange like an Oompa Loompa
Peel and chop your sweet potatoes and apples 
Place your squash, apples and sweets into a baking dish (or sheet pan).  I recommend a pyrex casserole dish or a baking sheet with edges that way you can stir oil & seasoning in dish vs. dirtying another bowl.  It also makes it easier to stir while its roasting without pieces falling off the tray in your oven.  
Drizzle 1 Tablespoon of coconut oil onto your squash etc. and season with salt & pepper.  Stir it up! (in a Bob Marley voice) 
Roast squash, sweet potatoes and apple in oven for 45 minutes to 1 hour. Stir every 15 minutes while roasting.  Set aside when finished.
While that's roasting, chop your onion & garlic.  Sauté onion with 1 Tablespoon of Coconut Oil in skillet until onions are soft. Then add garlic and sauté another couple of minutes.
Add butternut squash, sweet potatoes, apple, onion, garlic, vegetable broth, water, cinnamon to your blender.                
Blend until smooth!                                                                
Pour Soup in a large pot and heat until hot!
Garnish: I used spinach for mine, and I added Turkey Kielbasa + spinach for J's.  We also added a few dashes of cayenne pepper to our bowls.  I love it with cayenne because it cuts perfectly through the sweetness of the soup.  You can also garnish with pumpkin seeds, walnuts, basil or other fresh herbs, bacon, greek yogurt..whatever floats your boat!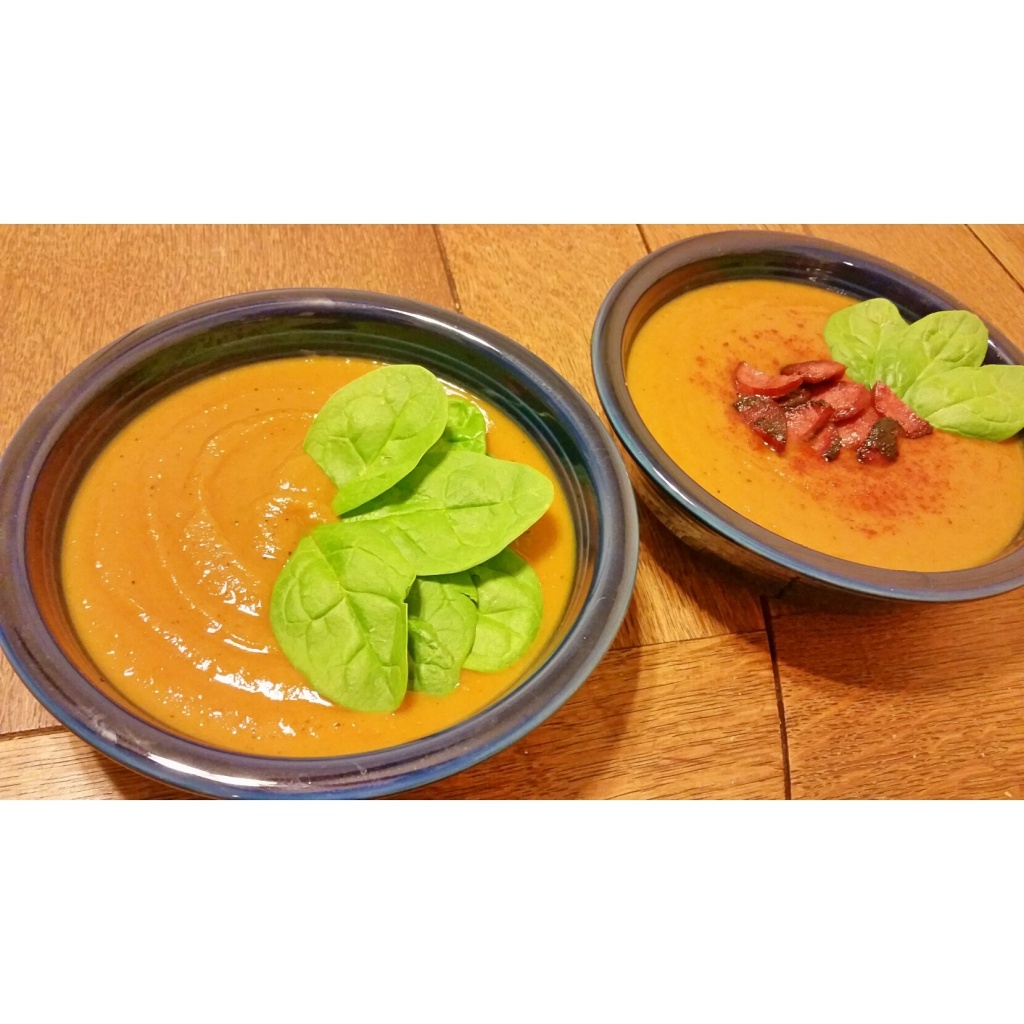 Enjoy!  Let me know what you think!
xo, Siobain