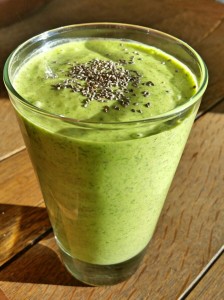 I was first introduced to a version of this smoothie by one of my best friends.  It was my husbands bachelor party before our wedding, the boys went to Vegas (of course).   I spent the weekend with one of my BFFs (who's hubby was also at the bachelor party).  We drank wayyy too much wine, ordered a family size fatty italian feast delivered to her house, stayed up past midnight chatting away—it felt like college again!  The next morning we were sluggish to say the least…she went into the kitchen and made me the best smoothie of my life.  She called it a Green Monster!  It was so delish, creamy, refreshing and get this, FULL OF SPINACH…it was the cure to our hangovers.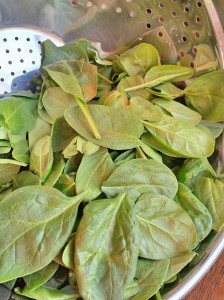 Since then, I have searched for other varieties of this same style spinach smoothie.  I found the OG version and it's the one I'm sharing with you today.  We have this for breakfast at our house about 3 times a week.  My husband loves it!  You can't taste the spinach at all, but be warned, not true when made with kale.
Classic Green Monster
source: vegan goddess,
Angela Liddon
 aka 
Oh She Glows
Yield: 1 serving/2 cups
Ingredients
1 cup almond milk, or milk of choice
1 ripe banana, peeled and frozen overnight
2 handfuls organic spinach or 1 handful destemmed kale leaves
1 tablespoon chia seeds and/or ground flax
1 tablespoon almond or peanut butter (optional)
2-4 ice cubes, as desired
dash of cinnamon
protein powder of choice (optional)
Directions: Starting with the liquid, add in 1 cup of milk of your choice. Now add in the chia or flax and nut butter. Next, add in the spinach followed by the banana on top. Blend until smooth. Add in your ice cubes and blend some more. Serves 1- about 2 cups.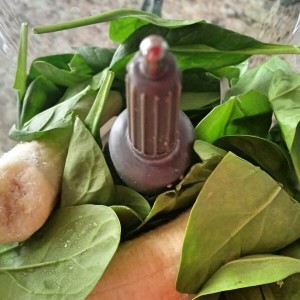 The protein powders I use are Perfect Fit and Garden of Life Raw Protein both are Vegan, Gluten Free and Certified Organic.
Just a few of the many health benefits of spinach
anti-inflammatory
high in antioxidants — including vitamin C, vitamin E, vitamin A (in the form of carotenoids), manganese, zinc and selenium
helps maintain bone health
If you are not vegan or dairy intolerant, try this adaption from SkinnyTaste that uses greek yogurt.
What is your Go-To breakfast smoothie?  Please share!
xo, Siobain