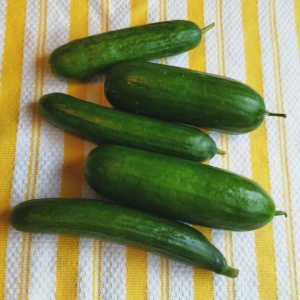 PICTURED: ORGANIC PERSIAN CUCUMBERS, FROM TRADER JOE'S
Today we are looking at one of my favorite foods of all time, Cucumbers!
Specifically, the Persian variety…
Persian cucumbers are mini & slightly sweet.  In the U.S. they are available year-round.  They are super easy to cut because there is no need to peel off the fiber-full edible skin!
They are sometimes labeled "burpless" or "seedless" because the seeds & skin of other varieties of cucumbers seem to give some people gas (yuck).  Technically, Persian Cucs do have seeds, they just don't make you burp!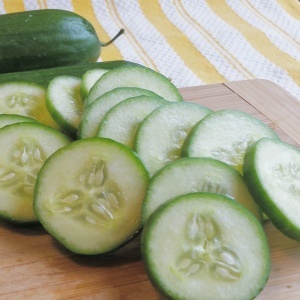 Did you know?
Cucs are made of 95 percent water
have only 16 calories per cup
provide Vitamins A, B, C, & K
are a natural diuretic…bye-bye bloat!
& their skin is packed with Fiber
PERFECT SNACK:
SLICE 2 PERSIAN CUCS & DIP THEM INTO 2 TBS OF HUMMUS
(ONLY 112 CALORIES)
What is your favorite way to enjoy Cucumbers?  I'd love to know!
xo, Siobain